We're beyond ecstatic to announce SWBR's hard work and creative efforts landed us three Silver ADDY Awards from the American Advertising Federation of the Greater Lehigh Valley (AAF-GLV). The awards show took place March 16 in downtown Allentown.
The American Advertising Awards, aka the ADDYs, is the nation's largest and most competitive ad creative contest conducted annually by the American Advertising Federation (AAF), attracting more than 40,000 entries every year. It is a three-tiered national competition, recognizing the best forms of advertising from media of all types throughout the nation.
The three-person panel selected SWBR as Silver ADDY winners in three different categories – Campaign, Copywriting, and Internet Commercial Campaign – representing our building/construction and banking/financial clients, respectfully.
"It's an honor to see our team's hard work, strategic prowess and creative excellence recognized through such a prestigious award," said Scott Friedman, SWBR President & COO. "We strive to elevate our clients' brands every day, and we view these awards as validation of our efforts."
Campaign – Arrow Fastener, 10 Weeks of Awesome
Continuing our successful streak with Arrow Fastener (remember when we won a Gold ADDY for their website?), our 10 Weeks of Awesome campaign landed us an award this year, too.
Designed to boost brand awareness, 10 Weeks of Awesome was a sweepstakes for potential and current customers to enter to win Arrow Fastener tools and cash prizes.
Week after week, one $1,000 winner and 100 tool winners were chosen, totaling $10,000 cash prizes and 1,000 tools by the end. The campaign launched in mid-October 2017 and ran until mid-December 2017, pulling in more than 30,000 entries.
A major kudos is in order to our team (and trusted partner!) who worked relentlessly on seeing this project through:
Tony Susi, Art Director / Copywriter
Nick Satkovich, Chief Pixel Pusher/Web Developer, Peer Pressure Creative
Donna Sinko, Sr. VP, Digital & Creative Services
Mike Walbert, Account Executive
Dave Kratzke, Director, Digital Marketing
Bill Sokel, VP, Marketing, Arrow Fastener
[Learn more about this campaign.]
Copywriting – Peoples Security Bank & Trust
When Peoples Security Bank & Trust looked to establish themselves in the area, their Scranton-based marketing team entrusted us to bring brand awareness to the Lehigh Valley. We developed an effective creative campaign that positioned PSBT as a "community bank plus" – a term coined to communicate their big banking power while maintaining a small-town personal touch.
Using simple visuals to enhance logo recognition, the campaign relied heavily on effective copywriting. The AAFGLV recognized the efforts of our small, but mighty team.
Annemarie Dodenhoff, Art Director / Copywriter, SWBR
Ernie Thomas Stiegler, Account Executive, SWBR
Neal Koplin, Executive VP, Lehigh Valley and Greater Delaware Valley, Peoples Security Bank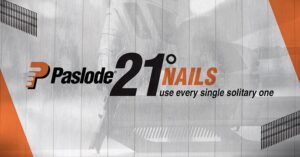 Internet Commercial Campaign – Paslode 21˚ Social Video Campaign
To illustrate the improved productivity and end-user experience of Paslode's 21˚ No-Debris Nailing System, SWBR anchored the campaign around a fictitious condition: "Flying Plastic Welt Syndrome." The second video, in a tongue-in-cheek approach, chronicled "The Land of Forgotten Nails" to highlight the waste-saving efforts of Paslode's product.
The videos were promoted via paid social posts on Facebook, Twitter and Instagram to reach a defined framer audience in 10 key markets across the United States.
This project wouldn't have existed without these go-getters (and, again, some awesome trusted partners) making it come to life:
Tony Susi, Art Director / Copywriter
Annemarie Dodenhoff, Creative Director
Digital Feast, Production Company
Phil Osborne, CCO, Digital Feast
Jedidiah Harley, Cinematographer, Digital Feast
Scott Friedman, Account Executive, SWBR
Donna Sinko, Sr. VP, Digital & Creative Services, SWBR